Table games are king, and always will be. Don't get us wrong — we at HyperCasinos love slots and progressive jackpots as much as the next person, but they're too luck-based. When you think about it, all you're doing is adjusting your bets and tapping a button. Not too much involvement, right?
Well, that's why table games are so great — you're in charge. Whether it's hitting in Blackjack, covering areas of the wheel in Roulette, or making moves in Poker, your own decisions are a big factor in the outcome. US online casinos usually offer all the essentials, so there's no reason not to try your luck.
We'll present all the best table games for US players, and explain why you should play them. It's all about switching it up — that's why table games are so fun!
Blackjack
There's no single reason fit to justify blackjack's status as the most popular casino game in the world. If you asked us, we would say simplicity plays a big role in maintaining this status. You can play blackjack anywhere, you just need a person to be a dealer and a few decks of cards.
One of the best things about this game's popularity is the existence of many different table limits. Of course, this is only important once you've mastered the rules of the game. There are also many variants being played consistently, such as Spanish 21, Blackjack Switch, Free Bet Blackjack, and Super Fun 21.
In the beginning, you can hone your skills by playing RNG blackjack. Once you know what to do and against a computer, live dealer tables are at your disposal. There, you can enjoy a true casino atmosphere and enjoy blackjack to the fullest.
Baccarat
Contrary to popular belief, baccarat is not just a high-stakes game. We don't know the origins of this myth, but lots of players believe you can only enter tables if you have big bucks. Fortunately, baccarat games can be played at all levels, without the need to pack some heavy firepower.
Just lick in blackjack, you're playing against the dealer. Each of you gets two cards, or three if the total of all the cards is less than 5. Face cards and aces are worth zero, while aces count as one. If the sum of all your cards is more than 9, it gets subtracted by 10. For instance, if you get a 9 and an 8, the value of your hand is not 17, but 7 (17 – 7). The person with the value closes to 9 wins.
And that's all there is to it, really. In addition to being simple, baccarat is also one of the best table games for US players because of its speed. If you've seen people play it in movies, then you're probably aware of how quickly cards are handed out. For this reason, baccarat gives you a nice window to win more and squeeze more fun into your gaming sessions.
You should also know that bet options are plentiful, too. Before the hand is dealt, you can place wagers on whether you or the dealer will win. You can also bet on a tie occurring, but that's a bit rarer than having an outright winner.
Roulette
At land-based casinos, it's easy to find the roulette table – just follow the noise and the commotion, and you'll reach it in no time. The life of the party, roulette has been a staple of the casino experience. There's just something mesmerizing about watching the wheel spin, as well as trying to guess in which manner will the ball bounce.
What we at HyperCasinos love about roulette so much is the freedom of choice. Aside from American Roulette, which has an extra number of the wheel (00), you can also play European Roulette or French Roulette, which pays you half of every losing chance bet (such as Red/Black).
In recent years, there have been several other variants, such as Mini Roulette or Multi-Wheel Roulette, where you can bet on multiple outcomes all at once. There are also exciting live dealer versions, developed by Visionary iGaming and Arrow's Edge. It never gets dull when spinning the wheel, so the possibilities are truly endless.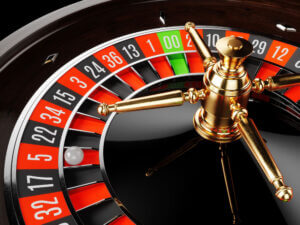 Craps
As loud as the roulette wheel can get at a casino, sometimes, it pales in comparison to the noise coming from the craps table. Players love this game, simply because of how straightforward it is. All you need to do is watch a pair of dice being thrown and use a plethora of available bets to correctly guess the outcome.
The most popular craps bet is, of course, the pass line. Here, the bet wins if the shooter rolls a 7 or 11, while it loses if the sum of the numbers is 2, 3, or 12. Any other number and the shooter has become the 'point.' They now have to shoot until the bet wins by getting the same number again, or by scoring a 7 and losing it altogether.
While craps is a bit more intricate than blackjack or baccarat, it's one of the best casino games to get hot at. There's no need to think of iron-clad strategies or any external factors. You can even play live craps at US online casinos, which is as close as it gets to the real thing nowadays.
Three-Card Poker
Casino sites have seemingly fixed poker's biggest flaw. As great as it is, poker often involves waiting for long periods of time until a seat is available. If you're interested in online play, then three-card poker can be your ideal introduction to how things work.
While standard poker card values do apply, the whole focuses on choosing whether to increase the wager or fold. Even if you don't have any previous experience, you'll quickly learn which hands are worth holding onto, and which ones don't deserve your attention. All of this adds up to a lightning-fast game with thousands of possible outcomes. It's the cream of the crop when it comes to table games in the US.
All of the table games described on this page can be played at most online casinos. Check out our reviews and pick one to start playing now!